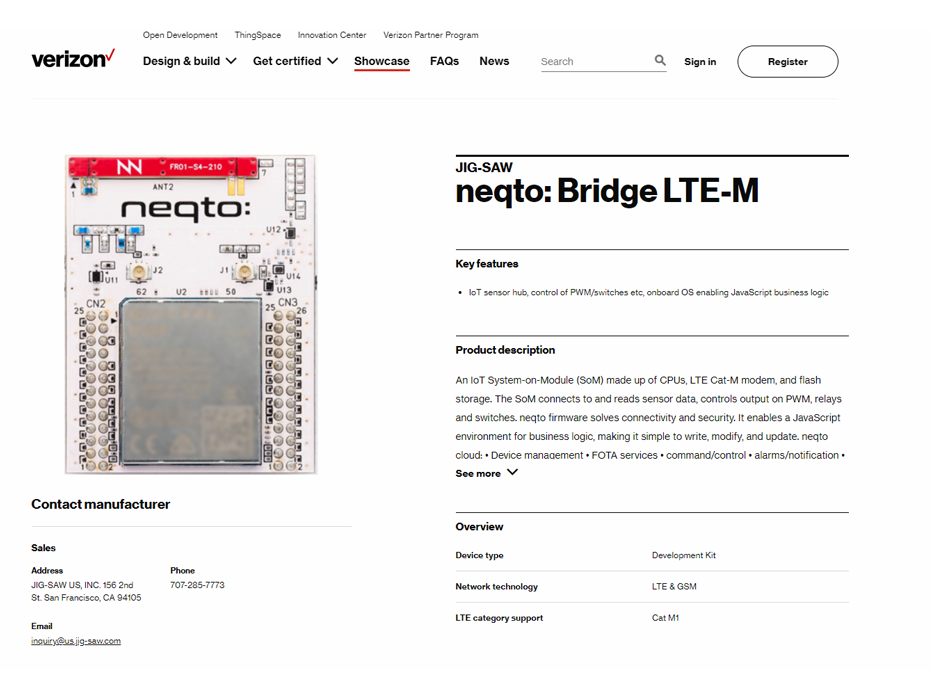 JIG-SAW now offers the fastest and easiest way to deploy IoT solutions in the United States on Verizon Wireless Nationwide 4G LTE Network
JIG-SAW US, INC. ("JIG-SAW US", San Francisco, California), a subsidiary of JIG-SAW INC. ("JIG-SAW," HQ: Tokyo, Japan), and a leading developer of 4G/LTE IoT devices and cloud solutions, announced that its "neqto: Bridge LTE-M" enterprise-level IoT kit received Verizon Wireless Open Development Certification (OD). The device is available immediately for operation on Verizon Wireless Nationwide 4G LTE Network.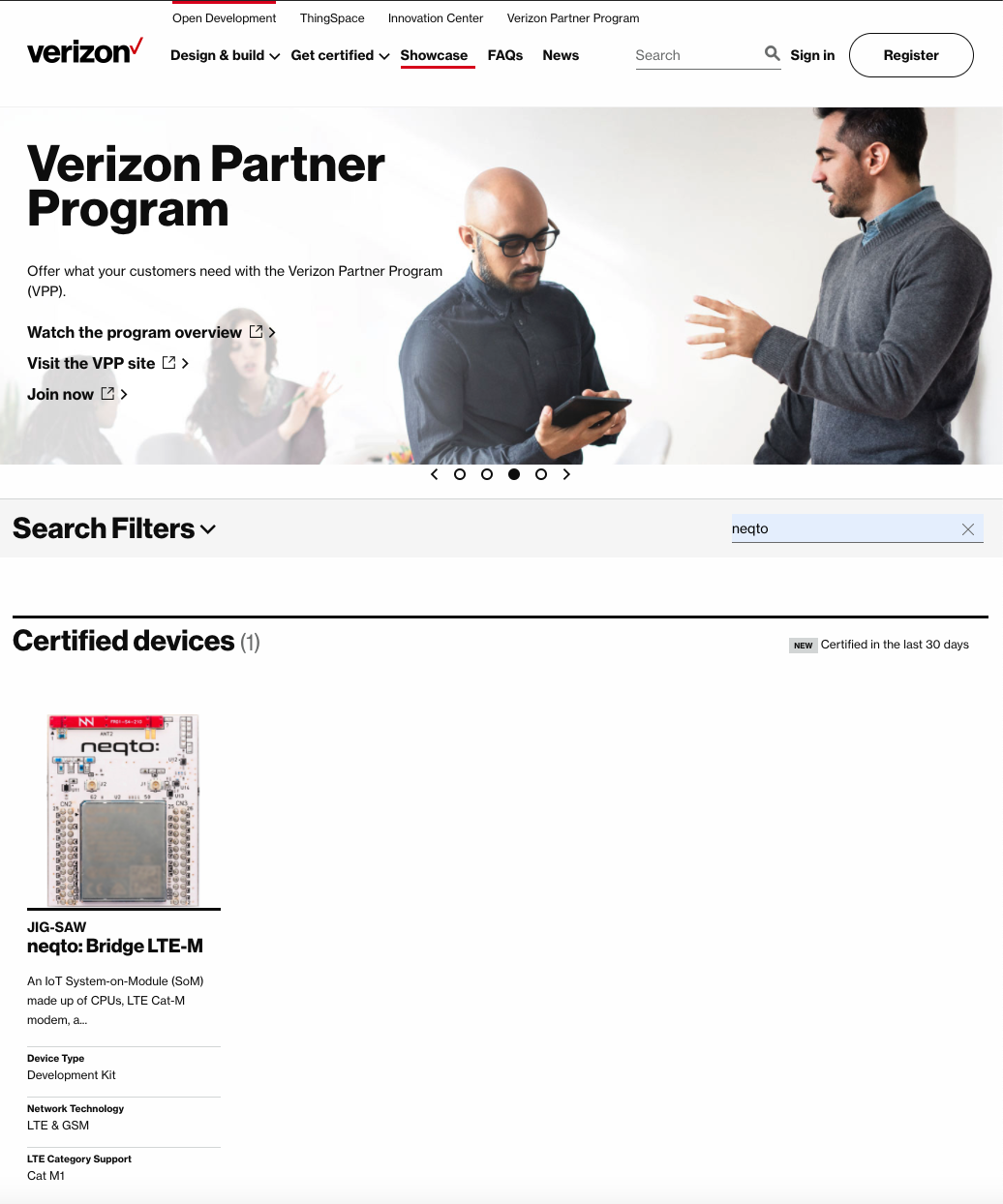 https://opendevelopment.verizonwireless.com/device-showcase/device/12442
The certified "neqto: Bridge LTE-M" is the fastest and easiest way to deploy enterprise-level IoT solutions. This IoT device is cloud-native, without any need for an IDE or connection to a PC. All that remains is to configure the business logic in the neqto: cloud console and have bi-directional control and communication between sensors and cloud via the Verizon Wireless 4G LTE Network.
"We are excited to provide Verizon customers with an end-to-end solution to quickly and easily deploy large scale IoT initiatives. For enterprises considering launching IoT projects, JIG-SAW's neqto: solution on the Verizon LTE network is a perfect match for a wide range of use-cases. "With Verizon's certification, we are fulfilling another step in our mission of connecting the world's IoT devices, starting with US's largest wireless provider." said Tomo Oe, CEO of JIG-SAW US.
JIG-SAW's neqto: platform takes care of the connectivity and security so you can focus on your IoT business. Without the need for an expensive embedded development team, time-consuming network certification, intricate antenna tuning, complicated development environment, and significant efforts to secure your network communication, your path to deploying your enterprise-level IoT solution is rapid, simplified, and made easy.
The neqto: framework is a full turnkey IoT solution that consists of a SaaS cloud component, device, and enterprise-level cloud management system that is ideal for system integrators and product developers to enable a rapid GTM strategy. With NEQTO by JIG-SAW, enterprise customers can offer new IoT applications as their own branded solutions.
About JIG-SAW US:
JIG-SAW US provides key IoT infrastructure and building blocks as a fully managed service "neqto: " so that businesses can immediately leap over adoption barriers and begin using IoT. With neqto: , you can manage all of your enterprise IoT needs over wired or wireless connectivity. neqto: enables seamless off-the-shelf sensor onboarding, secure gateways, edge/cloud processing capabilities, bi-directional connectivity, easy-to-use customizable cloud management service, device control, and FOTA updates that are compatible with your IoT needs and use cases. neqto: also offers the most comprehensive suite of enterprise cloud integration solutions from best-in-class names such as Oracle for rapid and cost-effective IoT software development projects.
Contact: inquiry@us.jig-saw.com
JIG-SAW US, INC. (https://neqto.jig-saw.com/)
156 2nd Street, San Francisco, CA 94105