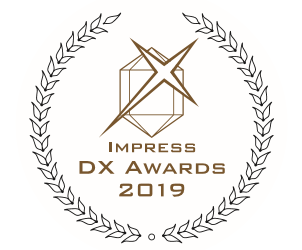 We are pleased to announce that JIG-SAW Inc.'s (hereinafter JIG-SAW) Standalone IoT engine "neqto:" has won the Grand Prix in the "Edge Computing/Device" category at the Impress DX Awards, sponsored by Impress Corporation (hereinafter Impress).
Impress DX Awards 2019
Edge Computing/Device Category Grand Prix
Winner: JIG-SAW
*2018 Winner: NVIDIA
*2017 Winner: Amazon Japan
The Impress DX Awards, sponsored by Impress, select Grand Prix and Runner-up Grand Prix winners in five categories that are prominent in the public eye and the various issues of Impress' "Watch" medium: 'Project', 'Application/Service', 'IoT Platform', 'Network', and 'Edge Computing/Device'. These categories represent initiatives that are aimed at creating new business and services using digital technology, as well as products/services that help to realize these initiatives. Each winner is decided by a strict panel of judges comprising of top field experts, including Professor Noboru Koshizuka of the University of Tokyo, as well as the chief editors of each Impress magazine.
The Grand Prix-winning IoT engine "neqto:" is a real-time OS (RTOS) based IoT service that provides a license for the "neqto: Engine", which enables the IoT transformation of any device or equipment globally.
neqto: was highly regarded for its importance as a base system that enables IoT even when attached onto external devices and equipment, as well as for its potential to support the digital transformation of manufacturing companies by implementing features such as remote control from the user's cloud environment, big data processing in the cloud, and edge-processing capabilities in conjunction with deep learning.
JIG-SAW will continue to work with various partners and users around the world to "make all things IoT" a reality.
For inquiries about neqto: Engine or partnerships
Contact Us