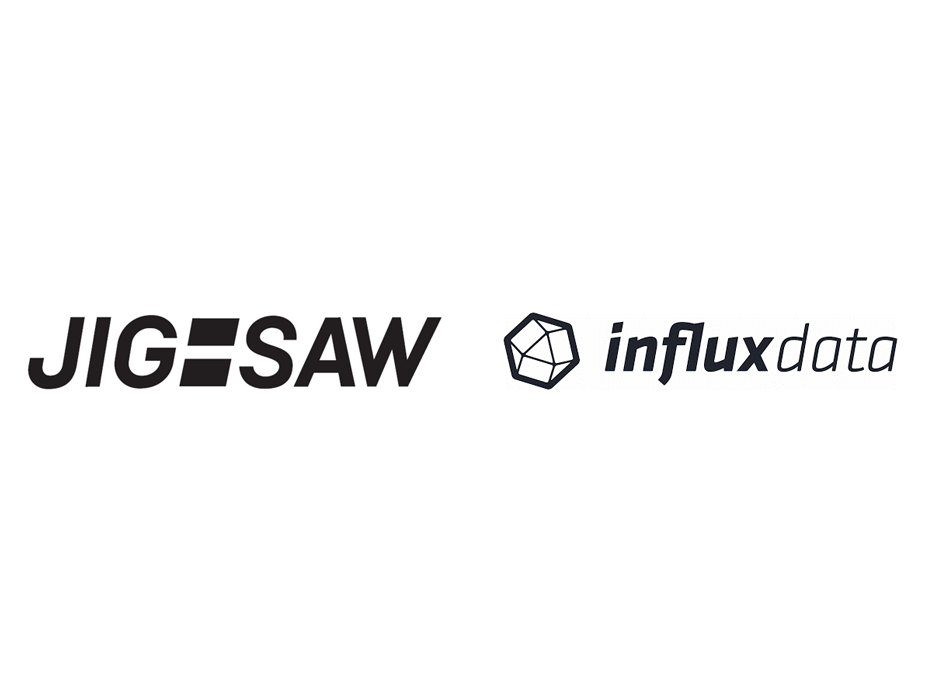 JIG-SAW and InfluxData Forge Strategic Innovation Partnership to Offer Time Series Monitoring for the neqto: Micro-Engine
SAN FRANCISCO, December 14, 2020 – JIG-SAW US, INC. ("JIG-SAW US", San Francisco, California), a global IoT company of JIG-SAW INC. ("JIG-SAW", Chiyoda-ku, Tokyo, Japan), is very pleased to announce a partnership with InfluxData Inc. ("InfluxData", San Francisco, California) designed to create a powerhouse IoT solution that marries cutting edge enterprise device performance with elastic time series monitoring.
The solution, which combines JIG-SAW's IoT micro-engine, neqto: and InfluxDB, InfluxData's open source time series database, will immediately become available to partners and customers under JIG-SAW's white-label licensing agreement option. This enhanced time series monitoring feature is now integrated into neqto: to help users act on time series data and gain deep insights for unified metrics and events.
"This is one of our more exciting partnerships, which is such a complementary solution for neqto: ," said Tomoyuki Oe, CEO of JIG-SAW US. "Innovation is in the DNA of JIG-SAW, and we choose to align with the best partners in the world when it comes to growing our global IoT business offering which is designed for companies looking to white-label their own IoT solution. InfluxData has created the leading time series database solution on the market, InfluxDB, so it is the perfect fit to incorporate into neqto: . Companies like Cisco, IBM, PayPal, and Tesla use InfluxDB to build transformative monitoring, analytics, and IoT applications quicker and to scale, delivering new insights from their data."
"All sensor data is time series data. It streams in from IoT devices in massive volumes that general-purpose and relational databases can't adequately handle," said Tim Hall, Vice President of Products at InfluxData. "This integration with InfluxDB, a platform purpose-built for time series data, empowers developers in the neqto: ecosystem to efficiently do more with their IoT data."

About InfluxData:
InfluxData is the creator of InfluxDB, the open source time series database. Their technology is purpose-built to handle the massive volumes of time-stamped data produced by IoT devices, applications, networks, containers and computers. InfluxData is on a mission to help developers and organizations, such as Cisco, IBM, PayPal, and Tesla, store and analyze real-time data, empowering them to build transformative monitoring, analytics, and IoT applications quicker and to scale. InfluxData is headquartered in San Francisco with a workforce distributed throughout the U.S. and across Europe. For more information, visit www.influxdata.com and follow @InfluxDB.

About JIG-SAW US, INC.
JIG-SAW US provides key IoT infrastructure and building blocks as a fully managed service "neqto: " so that businesses can immediately leap over adoption barriers and begin using IoT. With neqto: , you can manage all of your enterprise IoT needs over wired or wireless connectivity. neqto: enables seamless off-the-shelf sensor onboarding, secure gateways, edge/cloud processing capabilities, bi-directional connectivity, easy-to-use customizable cloud management service, device control, and FOTA updates that are compatible with your IoT needs and use cases. neqto: also offers the most comprehensive suite of enterprise cloud integration solutions from best-in-class names such as Oracle for rapid and cost-effective IoT software development projects.
Contact: inquiry@us.jig-saw.com
JIG-SAW US, INC. (https://neqto.jig-saw.com/)
156 2nd Street, San Francisco, CA 94105