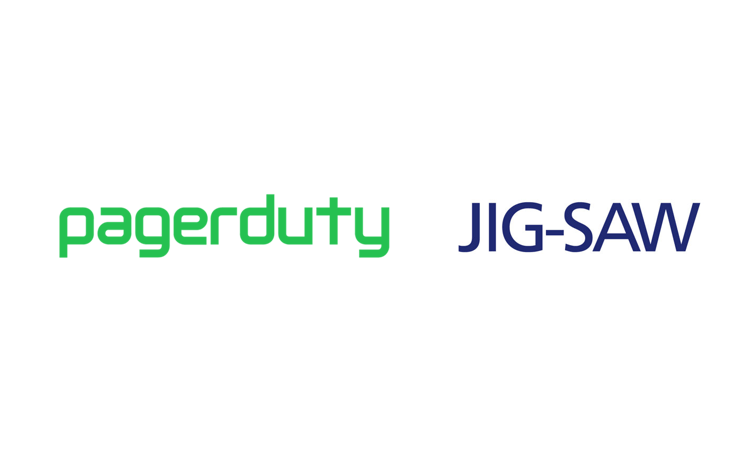 JIG-SAW and San Francisco based PagerDuty Announce Partnership Agreement to Provide AI-based Digital Operations Management Platform Service in Japan
JIG-SAW Inc. ("JIG-SAW", HQ: Chiyoda-ku, Tokyo, Japan) has concluded business agreements with PagerDuty Inc. ("PagerDuty", HQ: San Francisco, CA, USA) and will promote the close cooperation between PagerDuty's digital operations management platform for digital work and JIG-SAW services in the Japanese market.
PagerDuty's digital operations management platform is a software-as-a-service (SaaS) (1) that receives alerts from various system software/applications and informs the appropriate personnel of digital incidents as defined by the user. PagerDuty also works with channel partners to modernize and optimize their customers' digital operations management experience across developer and IT operations, HR, customer support, marketing, executives and security teams. PagerDuty provides enablement resources to partners, including dedicated sales and technical training programs. PagerDuty Inc. is a global leader in digital operations management and was selected as a Gartner Inc. "Cool Vendor" in 2018.
"PagerDuty's partnership with JIG-SAW is a testament to our focus on the Asia-Pacific Japan region and delivering best in class cloud service to area enterprise customers ," said David Wall, head of sales, Asia-Pacific Japan. "We look forward to working closely with the JIG-SAW team to enable customers with PagerDuty's digital operations platform to address digital incidents and opportunities."
Through this partner agreement, by integrating PagerDuty's platform with JIG-SAW's own automatic operation platform(2), we hope to provide even better service to our existing customers and would like to widely offer this AI service to the business world, assisting companies that aim to automate all their operations.
SaaS(Software as a Service)
Auto Sensor-ing & Auto Direction
About PagerDuty
PagerDuty is the leading digital operations management platform for organizations. Over 10,000 enterprises—including IBM, GE, CapitalOne, and eBay—and small to mid-size organizations around the world trust PagerDuty to improve digital operations, drive revenue, mitigate threats, protect assets, and delight customers. To learn more and try PagerDuty for free, visit www.pagerduty.com Follow our blog and connect with us on Twitter, LinkedIn, YouTube and Facebook.
About JIG-SAW:
JIG-SAW INC.
IoT Data Control Service by A&A*
– Based on Software, Hardware & DSP Technology
Software Core Technology: LINUX OS, & A&A*
Hardware Core Technology: Semiconductor, Embedded, Communication Module, & SIM Development
DSP : Digital Signal Processor
A&A*: Auto Sensor-ing & Auto Direction (A.I. Controlled)
Established: November 2001
Listing: Tokyo Stock Exchange (Code: 3914)
Locations: TOKYO/US (SAN JOSE)