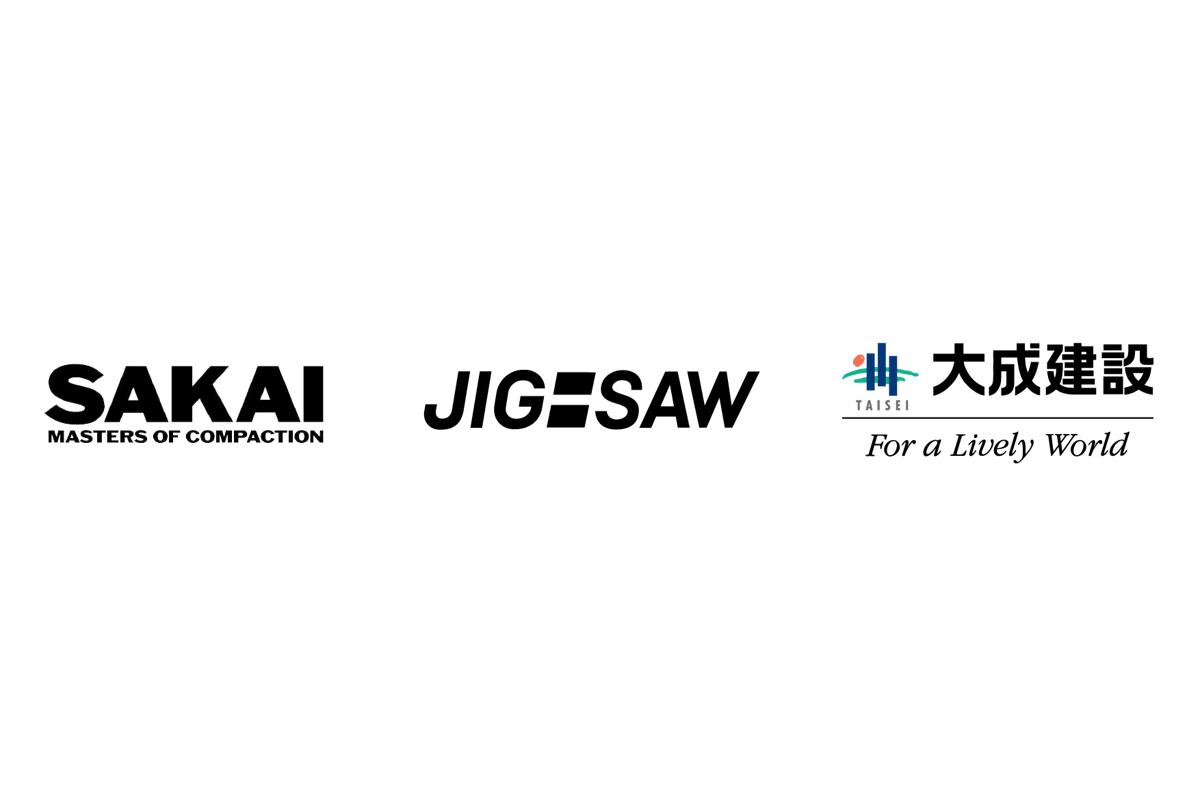 TAISEI CORPORATION Joins JIG-SAW and SAKAI HEAVY INDUSTRIES' Autonomous Operation Project
TAISEI CORPORATION (Shinjuku-ku, Tokyo) has announced it will join JIG-SAW INC. (Chiyoda-ku, Tokyo, hereinafter JIG-SAW) and SAKAI HEAVY INDUSTRIES, LTD. (Minato-ku, Tokyo, hereinafter SAKAI HEAVY INDUSTRIES) on their cooperative "Auto-Drive Synchronized Control System (ASCS) for Compaction Equipment" project aimed at implementing functions such as autonomous operation for road rollers.
The collaborative project will continue to work with a variety of companies and industries in its effort to create industry-standard equipment.
TAISEI CORPORATION is the third construction company to join this project.

*About the ASCS for Compaction Equipment Project
The purpose of this project is to develop industry-standard equipment with autonomous functions for machines used in the compaction process, which have a significant impact on the quality (durability, density, etc.) required for civil engineering projects in the field of i-Construction, such as embankments.
SAKAI HEAVY INDUSTRIES and JIG-SAW have been working together since 2015 to research, develop, and test an autonomous driving and control system for road rollers. This initiative is powered by the collaboration between SAKAI HEAVY INDUSTRIES' road roller construction machinery and JIG-SAW's autonomous driving/control software development.
The project's goal is to create practical, commercialized equipment by implementing JIG-SAW's software into SAKAI HEAVY INDUSTRIES' machinery. Through the research and development process, demonstrations of the autonomous driving and control were made possible in 2019.
Based on this research and testing, we have clarified our position of developing an industry standard machine and our aim to collaborate with companies in related industries at a wider range. In June 2019, as a part of SAKAI HEAVY INDUSTRIES and JIG-SAW's joint automation project: "Auto-Drive Synchronized Control System (ASCS)", a memorandum of understanding has been concluded to create the formal joint development project "Auto-Drive Synchronized Control System (ASCS) for Compaction Equipment."
This project is expected to continue expanding into a larger cooperative development.
Furthermore, JIG-SAW has previously worked with OBAYASHI CORPORATION during the successful 5G composite demonstration tests performed in collaboration with the Ministry of Internal Affairs and Communications, and will continue to strengthen its efforts to expand and create practical operation functions through participation in projects such as the ASCS project.
About JIG-SAW US:
IoT Data Control Service
Unique algorithm-driven fully automated IoT – Cloud data control – Sensor-connecting services
Development of state-of-the-art chips and modules, various communication controls, research and development of next-generation real-time OS
*Expanding A&A services (automation, diversification, and sharing) for all industries based on optimal automated control and 'operation technology (OT)'.
*Equipped with software technology centered on OS technology, hardware technology centered on ultra-high-speed communication and signal control, and application of foundational technology to the regenerative medicine field, etc.
JIG-SAW INC.
https://www.jig-saw.com/
Listing: Tokyo Stock Exchange (Code: 3914)
Tokyo Head Office: 1-9-2 Otemachi, Chiyoda-ku, Tokyo
Tokyo | Sapporo | San Francisco | Santa Monica | Vancouver | Toronto
Representative: Masunaru Yamakawa, President & CEO
Established: November 2001